Guardian investigation reveals Angelica Rivera is using $2.05m luxury apartment bought by Grupo Pierdant, a contender to run Mexico's ports.
Mexico's first lady is using a luxury property in Florida bought by a company that is expected to bid for lucrative government contracts, the Guardian has learned.
Angelica Rivera, the wife of President Enrique Peña Nieto, is using the $2.05m apartment in Key Biscayne, south of Miami Beach, with the apparent blessing of Grupo Pierdant, which is a contender to run Mexico's ports.
The company has also paid the property tax on an additional Key Biscayne apartment bought by a holding company set up by Rivera.
The arrangements echo aspects of Rivera's purchase of a $7m mansion in Mexico City from another government contractor, the so-called Casa Blanca (White House) scandal.
The first couple's perceived conflict of interest with the government's contracting process landed like a bombshell in 2014, wrecking Peña Nieto's popularity and reformist credentials and reviving long-standing concerns about corruption in the ruling Institutional Revolutionary Party (PRI).
The Guardian's investigation into the Florida properties reveals an unorthodox relationship between the first lady and Grupo Pierdant, centered on Ocean Tower One, a gated community with a pool, tennis courts and white glove concierge in Key Biscayne, an affluent enclave in Miami-Dade County.
Rivera, a former telenovela star, bought a three-bedroom unit, number 304, in 2005. She revealed its existence publicly in November 2014 in the wake of the Casa Blanca controversy, which put her finances under scrutiny. Rivera said she had lived in the Florida apartment for one year with her daughters. It is currently worth around $3.5m, according to Zillow.
However, she made no mention of Grupo Pierdant nor the company's founder, Ricardo Pierdant, who has extensive business interests in Mexico and the United States.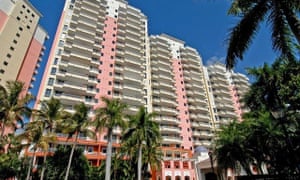 In 2009 Pierdant bought unit 404 in Ocean Tower One through a company, Biscayne Ocean Holdings, apparently set up for that purpose.
Since then he appears to have let the first lady use the property as an addition to her other apartment, in effect allowing them to be managed as a single unit.
The properties share the same phone number. A woman who answered in Spanish, and identified herself only as Maria, said packages for Rivera could be sent to either property. "It's the same," she said.
In March 2014 Pierdant's company deepened the link – and raised fresh questions – by paying property tax not only on unit 404 but also on 304, even though it is in Rivera's name. The latter's tax bill for that year was $29,703.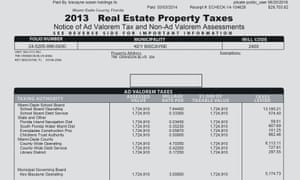 Pierdant's establishment of Biscayne Ocean Holdings to acquire his unit mimicked that of Rivera, who registered her own company, UNIT 304 OTO INC, to acquire hers. Pierdant and Rivera are the sole directors and owners of each company.
The nexus between the two raises concern because one of the businessman's other companies, Grupo Pierdant, is reportedly in the running for government contracts to develop Mexico's maritime ports.
When the Guardian phoned Pierdant to ask about the properties he hung up without explanation. Peña Nieto's office rebuffed a request for comment, saying no one was available to discuss the topic. The president's office later rebuffed a second request by saying the first lady's properties were a security matter.
Pierdant's link to Mexico's first couple will come as news to Americans who know him as the co-founder of DecoBikes, a bicycle-sharing program in Miami and San Diego.
The apparent conflict of interest between his other firm, Grupo Pierdant, and the first lady echoes that over the Casa Blanca, a modernist white mansion in Mexico's capital with seven bedrooms, marble floors and a spa.
Outrage erupted in 2014 when it emerged Rivera was buying the mansion from Grupo Higa, a company associated with a Chinese-led consortium that won a $3.7bn government contract to build a high-speed rail link.
Rivera and her husband, who has ruled Mexico since 2012, denied any wrongdoing, saying she was paying for the house in installments from her own TV-made fortune.
However the first lady later returned the property and last month Peña Nietoapologized, saying the scandal had dented faith in the presidency and government. "For this reason, with all humility I ask your forgiveness," he told political leaders. "I reiterate my sincere and profound apology for the offense and indignation I have caused you."
The president made the apology as he signed into law an anti-corruption system that his PRI party hopes will boost its flagging credibility in the run-up to the 2018 presidential election.
However, Carmen Aristegui, the journalist who broke the Casa Blanca story, has been fired from her radio show and is being sued, along with her publisher, in an effort to pull the exposé from bookstores.
Disclosure of the first lady's property arrangement in Florida may cast a fresh shadow over a ruling party which became synonymous with corruption during the 20th century.
The properties at Ocean Tower One "the most the most upscale beach front condominium on the beautiful island of Key Biscayne," according to a realtor's blurb – are not the only connection between the administration and Pierdant.
In 2014 the state-run national hydrocarbons commission, which regulates hydrocarbon exploration, paid the equivalent of $61,500 to the businessman's sister, Aurora Pierdant, a lawyer, for advice on energy law.
This was despite the fact that in 2011 – the year before Peña Nieto took office – the state oil firm, Pemex, fired her as a manager for administrative negligence and violating procedure in assigning a large contact.
She was banned from the public sector for one year. Her consultancy firm's biography describes her as an expert in drafting government contracts and bidding rules.
Additional reporting by Rory Carroll
Este contenido ha sido publicado originalmente por The Guardian, el 9 de agosto  de 2016, en el siguiente enlace: https://www.theguardian.com/world/2016/aug/09/mexico-first-lady-florida-property-government-contractor-documents-reveal